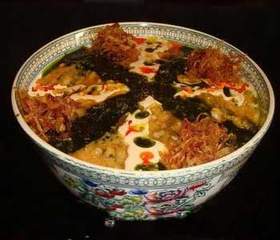 Ingredients:
200 gram rice
1 kilo vegetable(leek, parsley, coriander, mint)
100 gram split peas
4 tablespoon grated onion
1 cup pomegranate juice
1/2 cup pomegranate sauce
2 tablespoon tomato sauce
2 tablespoon angelica
3 tablespoon oil
5 cup water
Ingredients for meat balls:
300 gram mince
4 tablespoon nokhodchi flour
1 small onion
1 egg
Saffron, salt and pepper
Method:
1- Fry onion and split peas in a pot. Add water, salt and pepper. Let the peas cook for a while.
2- Wash the rice carefully and pour it in the pot. Let it fully cook.
3- Make small meat balls using mince, flour, onion, egg, saffron salt and pepper. You can add rice to the mixture if you like to. Cook them in water and oil.
4- Pour pomegranate juice, pomegranate sauce, tomato sauce and angelica in the pot.
5- Add the meat balls and chopped vegetable. Close the lid, so the mix boils and gets ready.
6- Fry the mint in the oil in a frying pan.
7- The pottage is ready. Decant it in a bowl and decorate it with mint, saffron and pomegranate seeds.
Nutrition Value:
| | | | |
| --- | --- | --- | --- |
| Energy | Fat | Protein | Carbohydrates |
| 38 kcal | 0.3 g | 0.4 g | 10 g |