Ingredients:
1/2 cup molten butter
cups sugar
eggs
teaspoon lemon zest
cups pomegranate juice
cups lemon juice
tablespoon vanilla
cups flour
teaspoon baking powder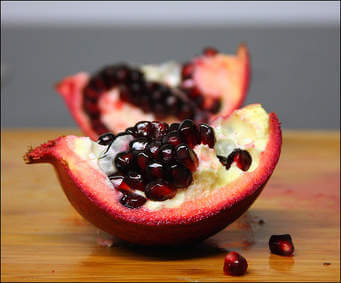 Method:
1- Preheat the oven to 140-160C. Mix molten butter and sugar and beat them until they get creamy and pale. Add eggs, lemon zest, baking powder, juice and vanilla. Add flour gently and beat the mixture. Grease a cake tin, pour the mix into it and put it in the oven for 50 minutes until puffs and gets golden.
2- Making syrup: Mix pomegranate juice, lemon juice, sugar and vanilla. Heat it till sugar dissolves and the mixture gets syrupy. Then let it cool and add pomegranate seeds to it.
3- When the cake cools down, make some holes in it and pour the syrup into them. You can serve the cake warm or cold.
Nutrition Value:
| | | | | |
| --- | --- | --- | --- | --- |
| Energy | Protein | Carbohydrate | Saturated Fat | Fiber |
| 475 kcal | 6.0 g | 64.0 g | 14.0 g | 1.0 g |